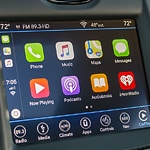 At Cobleskill Chrysler Dodge Jeep Ram in Cobleskill, NY, we know how important interior design can be to drivers. That is why we are offering the all-new Chrysler 300, which is a full-sized luxury sedan equipped with deluxe interiors that will are sure to make your mouth drop.
Featuring the very best in sophistication and poise, the Chrysler 300 is unique in its own right. Standard models flaunt smooth luscious black cloth seating, while upgraded trims wow with leather interiors. If you aren't pleased with what the interior your chosen model comes with, don't worry. Chrysler has 16 options for seating you can match to your own personal flair. What's more, the Chrysler 300 features a standard leather-covered steering wheel supplied with access to the digital dash, music and audio, and much more.
All in all, the Chrysler 300 has plenty to offer in terms of interior and personalization features. With 16 options for seating design, you have the opportunity to make this luxury sedan perfectly outfitted for you. Take the new Chrysler 300 out for a spin today!