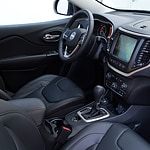 It's no wonder why the Jeep Cherokee has been such a popular compact SUV model for years on end. This high-powered jack of all trades as at it again, with capability features that are sure to please everyone considering the purchase of this all-star of a vehicle.
With available four-wheel drive, the Jeep Cherokee is ideal for when the weather conditions are ready to wreak havoc. From rain to snow, sleet, and hail, this Jeep is equipped to handle almost anything the weather throws your way.
Not overly concerned about the weather? We're sure you'll love the five Trail Rated features tested and approved for the Jeep Cherokee which includes superior traction, water fording, articulation, ground clearance, and maneuverability.
To summarize, the all-new Jeep Cherokee was built for those who love taking journeys to who knows where by offering ultimate handling in both treacherous weather conditions and off-roading adventures.